Word Camp Phoenix 2020 was Sold Out Again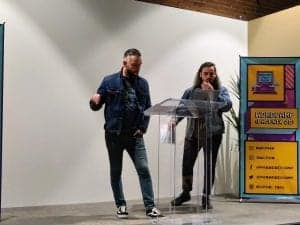 The popularity of WordPress is expanding like the rest of the universe but in a much more palpable way. It was very much in evidence this weekend at WCPHX 2020 mostly because it was standing room only. The organizers had put together a tremendous list of speakers and WordPress enthusiasts from all over turned out for it. As WP has come into its own over the last 10 years the growing group of presenters has evolved from a handful of do-it-yourselfers trying to share some of their experience into a traveling group of paid presenters with tons of real-world expertise. Mostly working for the event sponsors (ie. a plethora of hosting companies) they discussed topics ranging from WP security to enterprise-level scalability.  Even if you consider yourself an advanced developer, as we humbly do here at The Web Clinic, there was plenty to see and learn.
It wasn't all technical
There were great presentations for beginners and small entrepreneurs from speakers such as Brandy Lawson, and Francesca Marano. They touched on such subjects as women in tech, social networking, and being confident in your abilities to help clients.
The Swag
Every WordCamp I've been to has had some great WordPress giveaways to take home with you but this year was really impressive. Liquid Web battery chargers, Bluehost water bottles (extra points to them for having the softest T-shirts), but not to be outdone was WordFence. They were offering a padlock and picks package to anyone who could successfully pick one of the locks. One of the more innovative giveaways I've ever seen, attendees were crowded around their table for extended periods trying to get the locks open. When we got back to the office on Monday everyone was jealous of our haul. Of slight interest to them were the new leads and friends we made over the weekend.
The Web Clinic Crew had a Great Time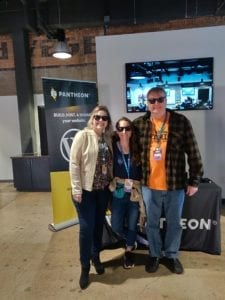 Sunglasses on the left are courtesy of Pantheon hosting.  I've got to say if you are a WP enthusiast and there is a WordCamp in your neck of the woods, do your best to get there.  You will not be disappointed.
I personally want to thank the organizers of WCPHX2020 for their great work and I will be encouraging the staff here at The Web Clinic to volunteer for next year's event.  Hope to see you there.